As part of the MQ Online Learning Standards, iLearn units should have a consistent look and structure, making it convenient for users to navigate their way through the site and locate information quickly.
Faculty of Arts iLearn Template
The Faculty of Arts has its own iLearn template. Instructions on setting up Arts units using the template are provided on the Arts L&T Hub, here.
Dates That Students Can Access Units in iLearn
OUA students - will access iLearn units two weeks before the official start of session, and up to a month after the end of session.  
On-campus students – will be able to access their iLearn units a week before the official start of session.
Editing iLearn Unit Student Access Dates
To edit these access dates, click on 'My iLearn Spaces' in iTeach:

Use the dropdown box and tabs to locate the year and session of the unit. Click on 'Edit'.

In the section entitled 'Student Access Dates', click on 'Edit' to change the dates as needed.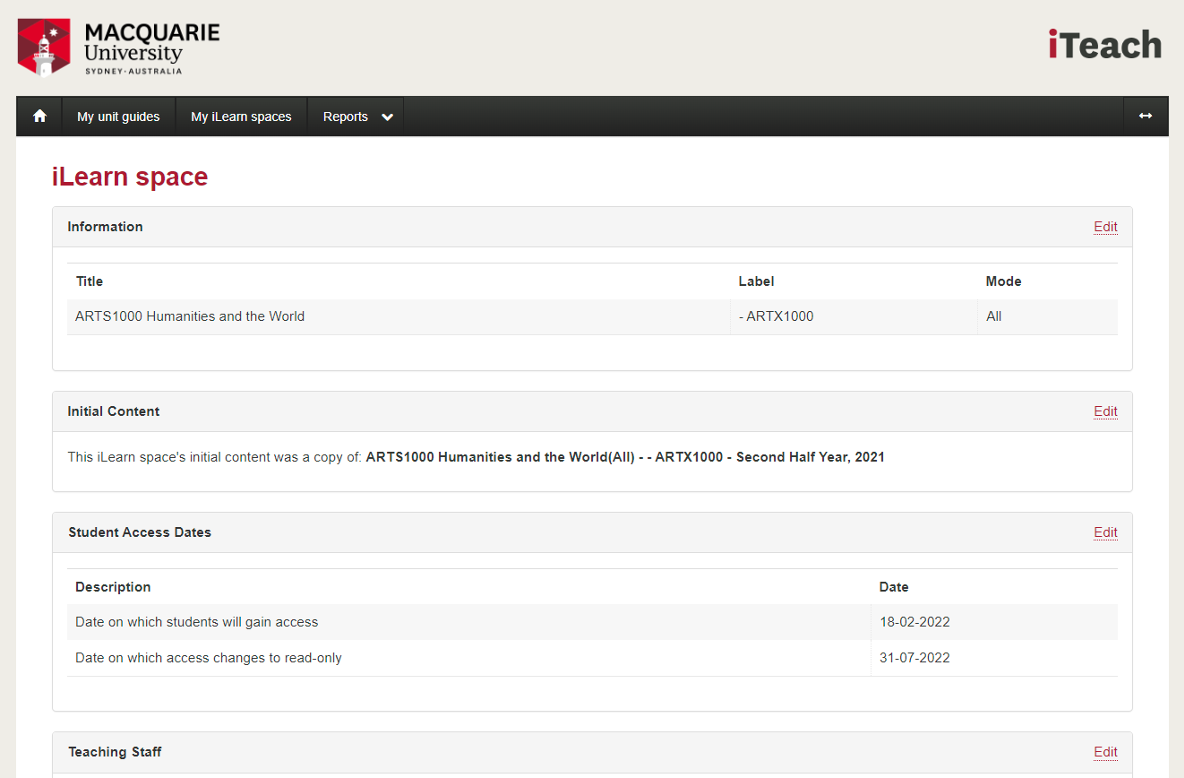 Unit Readings (Leganto/Library)
The Library provides reading lists via Leganto, a list management system available on iLearn. Leganto reading lists are automatically rolled over each session with convenors receiving a notification from the system. The process for setting up unit readings can be found here.
Gradebook
All Faculty of Arts units are to manage student results using Gradebook. This page on the Arts L&T Hub provides an overview of how to set up Gradebook. If you need further assistance, please send a ticket to ilearn.help@mq.edu.au.
Unit Moderation Report
The moderation report is to be completed by the unit convenor each session for all Faculty of Arts units. Please log in to the Moderation Report and complete the relevant sections as and when the actions in preparing and delivering your unit are completed. Please see the  Convenor guide for the Online Unit Moderation Report [pdf, 497Kb].