Macquarie University unit guides are publicly accessible. They provide a consistent source of information about coursework units offered by Macquarie University. In accordance with the MQ Online Learning Standards, unit guides are designed to be consistently structured across units. For more detailed information about unit guide requirements, see Macquarie University Assessment Policy (Appendix C: Requirements for Unit Guide System) [pdf, 238KB].
Unit Guide Publication Deadlines
Unit Guides (including for Open Universities Australia cohorts) must be approved and published via iTeach at least two weeks prior to the scheduled start date of the unit.
Preparing Unit Guides
Once you are assigned to a unit, a draft unit guide will appear in iTeach under the 'My Unit Guides' tab for you to edit and submit for approval. Make sure that you are viewing the correct year and session. Click on 'Edit' to begin working in your unit guide.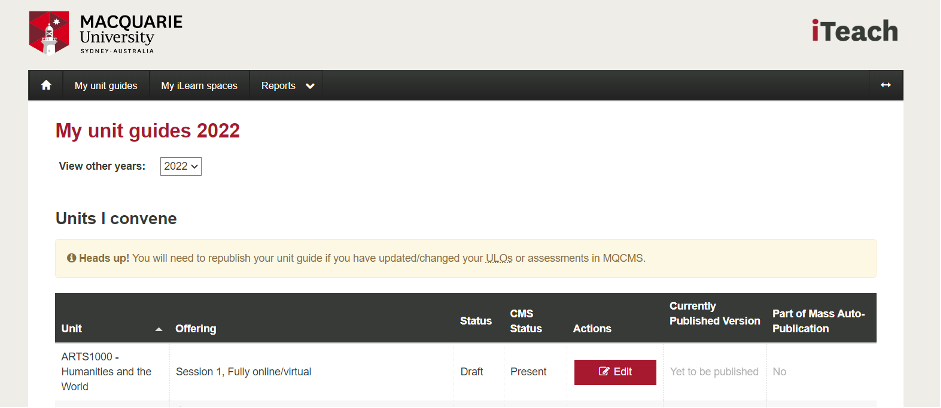 Editing Unit Guides
 iTeach provides you with 3 ways to edit unit guides:
Copy a unit guide from an existing, previous session (the most common option)
Join/combine existing unit guides that you wish to consolidate
Begin a brand new unit guide draft using the approved Arts iLearn template.
3 Steps to Editing your Unit Guide

There are 3 steps to working in your unit guide draft, before you submit it for approval:
Note: As mentioned previously, most details relating to the unit area already auto populated into your unit guide draft from the MQCMS.
In the Event of Changes to Assessment Policy/Procedure
Occasionally, there may be changes to assessment policies and procedures that require additional edits to be made to existing unit guides. In these instances, staff will typically be made aware of the required changes, but you are also advised to check this page for relevant updates to the unit guide process.
Assessment Procedure Update 9 June 2022 – Change to Late Assessment Submission Penalty
Convenors are to be advised that the following revised Late Assessment Submission Penalty must be added to all Session 2 unit guides under the assessment table, in the text box entitled 'General Assessment Information'.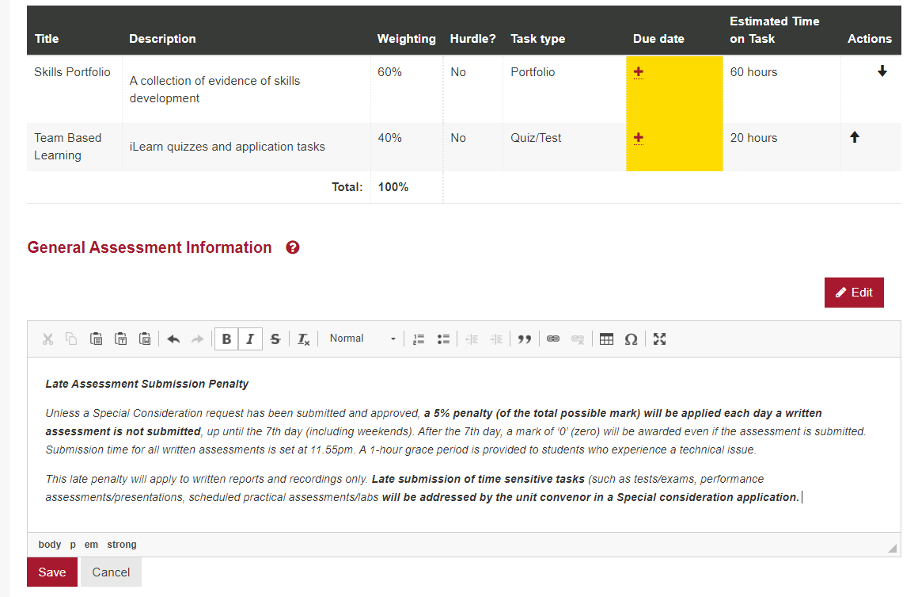 The text to be added to 'General Assessment Information' is below:
Unless a Special Consideration request has been submitted and approved, a 5% penalty (of the total possible mark) will be applied each day a written assessment is not submitted, up until the 7th day (including weekends). After the 7th day, a mark of '0' (zero) will be awarded even if the assessment is submitted. Submission time for all written assessments is set at 11.55pm. A 1-hour grace period is provided to students who experience a technical issue. This late penalty will apply to written reports and recordings only. Late submission of time sensitive tasks (such as tests/exams, performance assessments/presentations, scheduled practical assessments/labs will be addressed by the unit convenor in a Special consideration application.
Editing a Published Unit Guide
Any substantial proposed changes to a unit can only be undertaken via MQCMS. Staff who wish to propose such changes should contact a member of the Arts L&T Team at artslandt@mq.edu.au for advice and assistance.